Farm Family:
Micheline Jordan
Micheline started riding at the age of 8 years old, competing at local schooling shows and fairs. When Eventer Casey Gillis moved in next door, Casey piqued her interest in the sport of Eventing."Casey was instrumental in started my eventing career by helping me find my first upper level event horse Curious George. She subsequently coached me through the levels of Novice (pretraining) to Preliminary. Casey was extremely supportive of my education and encouraged me to become a working student for Olympian Kyle Carter in Spring of '99."
Under the tutelage of Casey Micheline successfully completed her first CCI* and several intermediate horse trials.
List of Achievements:
2000 Eventing Team Talent Squad
2009 & 2010 Canadian Eventing Team Long List
2011 & 2012 Canadian Eventing Team Short List
2008 10th CCI* at International Florida Three Day Event
2009 8th CCI* Jersey Fresh International Three Day Event
2010 14th CCI** Fairhill International Three Day Event…won the Amanda Warrington Award for top placed Amateur Rider
2011 11th CCI** Bromont International Three Day Event
*Named as Alternate to the 2011 Pan American Canadian Eventing Team
*2013 Completion of the Inaugural CCI****Rolex Kentucky Three Day Event
*Ranked #1 Advanced Adult Amateur Rider by the USEA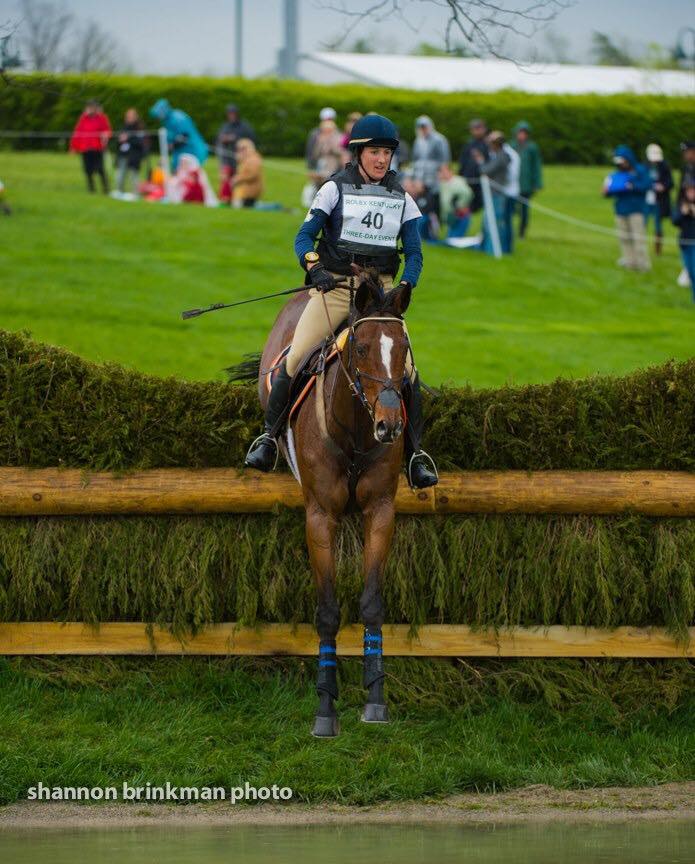 Karyn Curtis and Kodali
Casey Gillis coached Kodali and Karyn Curtis throughout Kodali's eventing career, from his days as an inexperienced, spooky youngster to an award-winning, veteran Preliminary eventer. Casey's methodical, confidence-boosting approach propelled Kodali to success on some of the area's most challenging, well-known courses. Her "courses for horses" and exacting gymnastic work transformed Kodali into a precise, accurate athlete who rarely met a fence wrong. Under Casey's tutelage, in his debut season Kodali won both the Pre-Training and Training Year-End Championship Awards for the National Capital Area — a first in the group's history. Casey's systematic approach and focus on the basics contributed to Kodali's consistent success: in his many years' eventing he was in the ribbons in an impressive 98 per cent of his outings.Highlights include:
1st – Preliminary, Farm of the Mountain Horse Trials, 1998
7th – Preliminary, Farm of the Mountain Horse Trials, 1997
7th – Preliminary, Harmony Horse Trials, 1997
4th – Training, Grandview Horse Trials, 1997
4th – Training, Napierville Horse Trials, 1997
7th – Training, Quebec Championships, 1996
4th – Training, Farm of the Mountain Horse Trials, 1995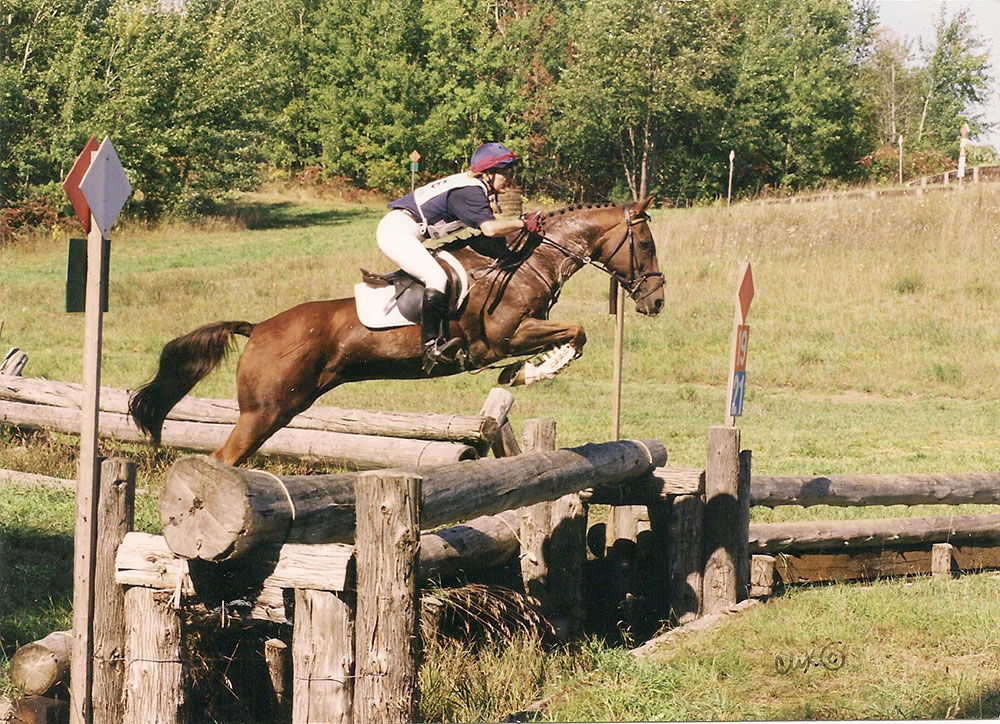 Karyn Curtis and Sweet Liberty
Casey coached Karyn Curtis and Sweet Liberty to Intermediate level, producing a consistent, successful partnership that was in the ribbons virtually every outing. Highlights include:
12th, Intermediate, Grandview Horse Trials, 2000
6th, Preliminary, Dreamcrest Horse Trials, 2000
3rd, Preliminary, Checkmate Horse Trials, 1999
4th, Preliminary, Napierville Horse Trials, 1999
8th, Preliminary, Glen Oro Horse Trials, 1999
4th, Training, Dreamcrest Horse Trials, 1999
Morgan Evraire
My mare Poppy and I have been part of the Quantum Farm family since 2013. Since coming to Quantum, I have had the opportunity to try cross country for the first time and hope work my way up to an event. I also enjoy helping run Quantum's birthday parties and grooming for other riders at shows.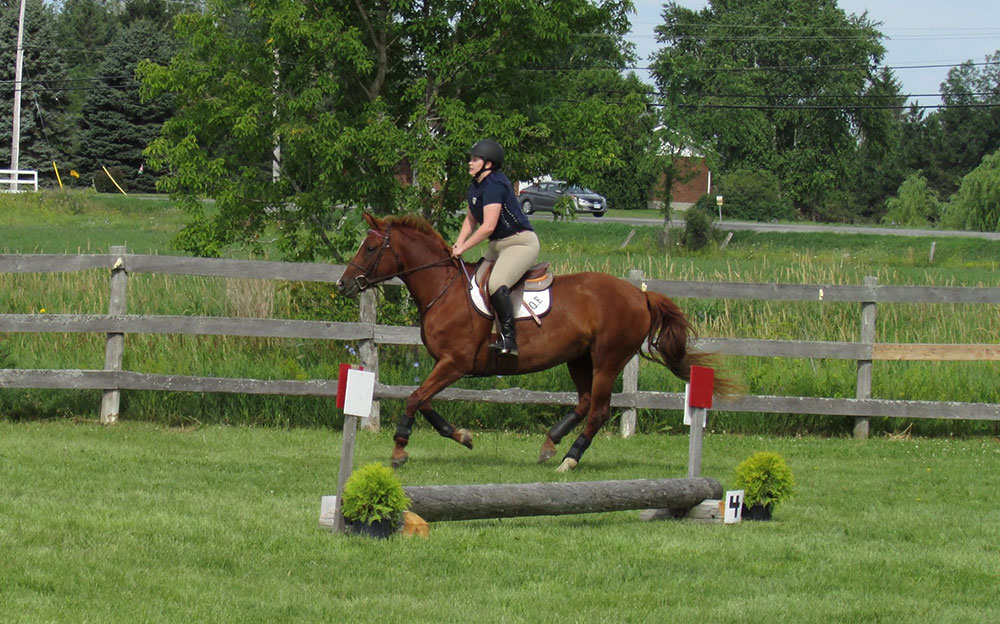 Kara Glauser
Kara Glauser started riding at the age of 8 competing in the schooling hunter/jumper ring before gaining interest in eventing while working for a barn that was involved in Pony Club. In 2010 she came to Quantum Farm to work in the barn for the summer and advance in eventing with her pony Mystyfied and has been riding with Casey ever since. Some career highlights with Mystyfied include placing 2nd at Training Level at the Ottawa Horse Trials and 1st at Pre-Training level at Oakhurst Horse Trials in 2011.
After competing Mystyfied up to Training Level in eventing Kara purchased Magnified, a Trakhener/TB X in 2011. With Casey's help Kara brought Magnified from Entry to Preliminary level in eventing. Career highlights with Magnified include placing 1st at Training level at Oakhurst Horse Trials and 6th at Preliminary level at Grandview Horse Trials. Kara and Magnified also had the privilege of travelling to Kentucky to compete on an Ottawa-area team at the Mid-South Team Challenge at Training level.
Through Casey's mentorship and experience gained working for Quantum Farm, Kara obtained her EC Competition Coach Certification. Kara has also completed an Equine Management Certificate and a Bachelor Degree in Bio-Resource Management specializing in Equine Management through the University of Guelph.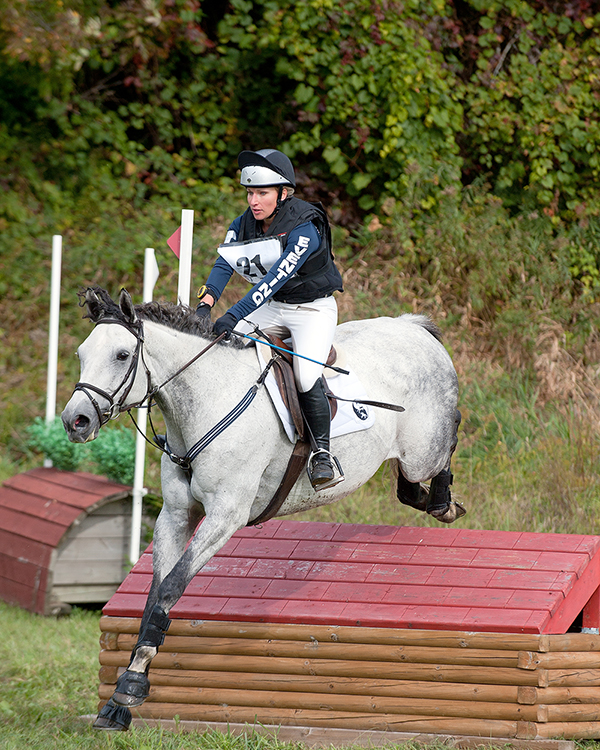 Kathleen
My name is Kathleen and I've been riding since I was a little girl. I quit for some time during high school and then i found Quantum during my university years. I have ridden at a few barns over the years and worked at others as well and can honestly say Quantum is the most down to earth, warm and welcoming environment and has made me fall in-love with the sport all over again. With the help of Holly, I have accomplished my life long dream of having my very own horse and am always learning something new. Very proud to be apart of the Quantum Farm family.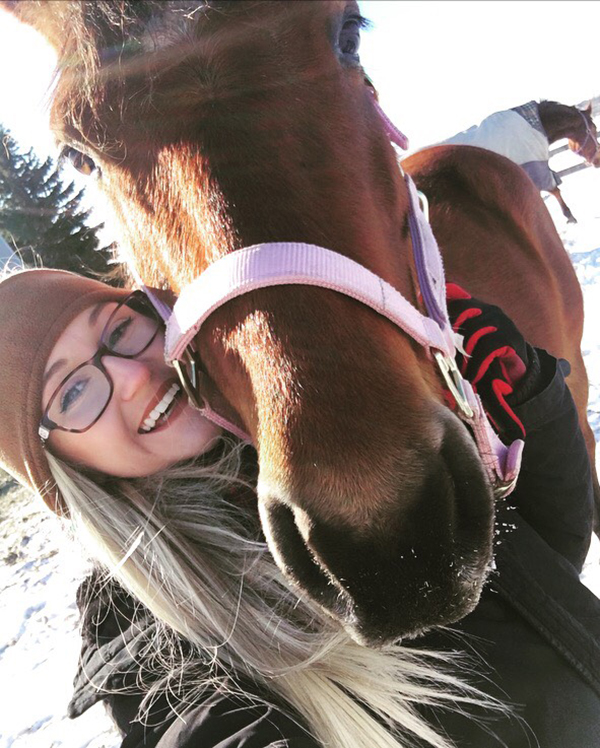 Kathey Cauley-Rowsome
Kathey enjoyed over 30 years of showing in the "A" circuit hunter ring, which included many trips to the Royal Winter Fair and competing on American circuits such as Lake Placid, Ocala, and West Palm Beach. Retiring from hunters in 1996, she has embraced the art of dressage and today can be found competing at some of the local dressage shows in the Ottawa area.
Says Kathey "Quantum Farms is my forever home. Here, I have found the perfect balance between setting challenges for myself and realizing my competitive goals – and loving the journey of everyday time with my equine partner Manny. Quantum Farms is my horse family. We have an incredibly positive and energetic learning environment. We celebrate life events, and encourage and support one another. That is the magic of Quantum Farms."
Picture here are Kathey and horse Manny, owned by Laura Armitage.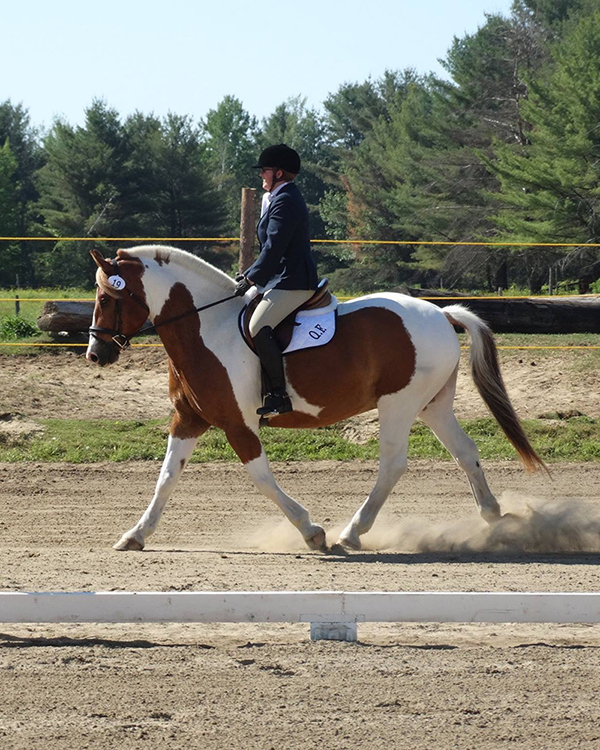 Amber Golden
Supervisor Standards & Training, Ground Services
Amber has been training with Holly and Casey over the past 17 years, self proclaimed as the most infrequent rider in their program she always feels at home when she comes back from her riding sabbatical, no matter how long it's been. Now back at it again, she looks forward to competing at the entry level this summer with Quantum Farm owned horse Logan.
By day, she is a Ground Services Training Supervisor, for a local airline which frequently takes her to Nunavut and the N.W.T.
Kelly Smith
I am an adult-amateur rider who has been riding on and off since I can remember. A little girl with big pony dreams! Being through the Hunter/Jumper circuit when I was younger, my Equestrian interests have now shifted over to Dressage. I met the wonder-team of Holly McEwen and Casey Gillis September of 2016 when I began riding at Quantum Farm. Starting at a new barn can be a particularly intimidating endeavor, however right away the energy that both Holly and Casey exuded and with a welcoming embrace from the barn, I knew this was the place for me. I have the privilege of not only being coached by the ever encouraging and accomplished Casey Gillis, I as well half-lease Casey's highly-skilled, show stopping mare Paradigm T. I couldn't ask for a better team that will allow me to develop a correct foundation while working towards more advanced goals. Victory gallops, here we come! There aren't enough words to describe the feeling that being part of a wonderful, supportive and fun barn family gives you. Quantum Farm is the absolute BEST!
I encourage everyone to follow their horsey dreams-and always remember those famous last words… inside leg to outside rein-it really does work 😉
Testimonial
"With the help of the wonderful coaches at Quantum, I have been able to work on gaining confidence while building a strong partnership with my young horse. The supportive environment at Quantum Farm feels like having a second family, and it is clear that the coaches and staff truly care about their riders and horses."